Snow, Snow and More Snow
February 16, 2004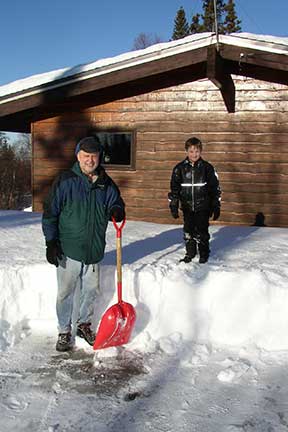 The excitement began in December 2003, with day after day of heavy snow. We ended up with so much snow that on February 16, Dennis noticed that the huge beam supporting our garage roof had cracked. It took the better part of a day to shovel the snow off the flat roof. When we were done, Dennis' grandkids were able to sled right off the top of the roof down to the driveway! What fun!
There was so much snow that the flat roofs on our condominium rentals began to leak. Our renters held on through the rest of the winter, and the condo association paid big bucks to replace the roofs. The contractor (as contractors sometimes do) dragged his feet during most of the sunny summer and didn't get the job finished. He finally started on the roof of one of our units November 28, the very day the ceiling caved in, just in time for a day of heavy rain followed by 12" of snow!
Years earlier, the Quonset hut collapsed in a spring rainstorm. Snow soaks water like a sponge, so instead of running off, rain makes the snow load heavier and heavier. When the Quonset collapsed, Dennis just jacked it back up, put supports under a beam across the roof, and fixed the window. No problem. It sheltered us for several more years.
April 5, 2012
Fortunately, we had the roof shored up and friends shoveling the roof in 2012, the year with the most snow ever in Anchorage. We got back to Alaska from California in time to cheer the final, all-time-record-breaking snowfall. We waited for weeks with just an inch to go to break the previous record of 132.6", set in 1954-55. It would have been a shame after all people had endured that winter to finish second. Fortunately, 3.4 inches fell April 5, smashing the previous all-time record!
Go on to read Wild Weather
Source: www.SusanCAnthony.com, ©Susan C. Anthony