First Night Anchored in Prince William Sound
July 20, 1994
Alaska is on nearly everyone's "bucket list." In 1994, the year we brought the Bayliner to Alaska, we heard from Susan's high school English teacher that she and her three sisters would visit Alaska in the summer. We offered to take them for a boat trip on Prince William Sound.
We all took the train to Whittier. Because a big storm was predicted for the following day, we decided to buzz out to Blackstone Glacier that evening in case the next day was too stormy to travel. We had an incredible ride on silky water. The clouds cleared over the glacier just as we arrived.
Blackstone Glacier is tidewater on the left and atop a huge black cliff on the right, over which pour waterfalls and occasional cascades of calving ice.
This was Dennis' first time ever to Blackstone Glacier. We didn't dare get too close. A HUGE chunk of ice calved into the sea, raising a curling wave that sped toward us. Gulls raced to the beach to harvest stunned fish that washed ashore. We were fortunately in deep enough water that the wave was just a large swell by the time it reached us. The glacier cracked and roared, great chunks of ice crashing down the cliff at times. The youngest sister's eyes were wide as saucers. "It's alive!" she said.
The sisters stayed in our small Whittier condominium that night.  Dennis and I, novice boaters, tied up at a makeshift mooring buoy between shore and a long dock that he expected would provide a windbreak (see photo, taken after the danger passed).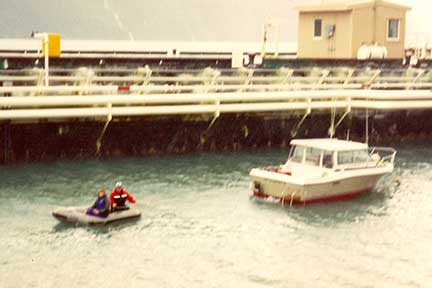 The predicted storm came in the night. For awhile we were secure enough behind the dock, but we didn't realize that when the tide was low, wind and waves passed under the dock! In the early morning hours, our breakwater disappeared and the waves began pounding. The tide fell and the water beneath us disappeared. We set an anchor off the stern to keep the boat parallel to shore, away from the rocks. The tide continued to fall. Dennis took the dinghy with a rope to tie us to the dock for stability. The tide continued to fall. We saw the rocks we were descending toward through roiling water. The tide continued to fall. We could touch the bottom with the boat hook. Our eyes were glued to the depth sounder. The tide should have turned, but it seemed to still be falling! I prayed….
The tide finally turned when we were just inches from cracking on the rocks. We could have destroyed our new (used) boat that very first night in Prince William Sound. Eventually, we were able to safely untie and motor the boat to the harbor. We forgot to pull our small stern anchor and it skipped along wildly behind the speeding boat like a water skier.
We spent most of that stormy day in the condo, resting and visiting. The sisters mentioned that their only regret about their trip to Alaska was they wouldn't have time to visit a fjord. "You're in luck!" I commented, pointing out the window. "That's a fjord right there!" Passage Canal is a fjord, as is Blackstone Bay. A fjord is a long, narrow, deep inlet between high cliffs, formed by a retreating tidewater glacier. Not all fjords have the word "fjord" in their names! "Great!" they said, and they checked that item off their "bucket lists."
Go on to read Prince William Sound 1996
Source: www.SusanCAnthony.com, ©Susan C. Anthony